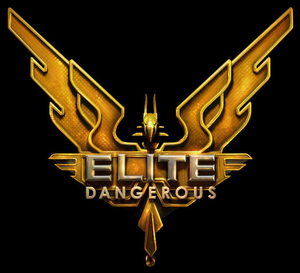 Elite: Dangerous is the upcoming massively-multiplayer online sequel to the original Elite game from Frontier Developments. The project is currently in the funding drive process on Kickstarter].
Description
In the game, you will of course begin with a spacecraft and a small sum of Credits. You will be able to trade, pirate, bounty-hunt, explore, and salvage your way to wealth and fame, building on those key elements of the previous games, and with sumptuous graphics only now possible with the performance of today's machines. Only this time some of the ships out there will be other players like yourself – other members of a secret 'Elite' group of space-farers…
Multiplayer: you will be able to control who else you might encounter in your game – perhaps limit it to just your friends? Cooperate on adventures or chase your friends down to get that booty. The game will work in a seamless, lobby-less way, with the ability to rendezvous with friends as you choose. This technology is already working, using a combination of peer-to-peer (to reduce lag) and server connections.
Play it your way: Your reputation is affected by your personal choices. Play the game your way: dangerous pirate, famous explorer or notorious assassin - the choice is yours to make. Take on missions and affect the world around you, alone or with your friends.
Trade: Buy low, sell high and discover the most profitable trade-routes. Keep an eye on the markets, supply and demand may create opportunities for quick profit. Unscrupulous players may even try distorting those markets.
Fight: take on the pirates, or become one yourself. Engage in combat missions within a rich and dynamic simulation to earn a reputation, or perhaps you want to become a famous bounty-hunter – feared by those that you chase, but staying the right side of the law.
Travel: Travel across star systems and between them. Risk leaving the relative safety of the Corporate-run space station to explore distant planets or stars. Space is big and you never know what you might find; perhaps a salvageable freighter wreck or some valuable asteroids? There are secrets and startling beauty waiting to be discovered by the intrepid explorer.
Ships: save your credits and upgrade your ship. Get new weapons, engines and equipment and customize your ship the way you want it. Check out the body-kits and paint jobs on offer, give your ship that personal touch.